Glass Balls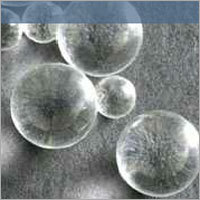 Glass Balls
Product Description
Glass Balls
For several years, the company has been engaged in offering the best grade Glass Balls in numerous sizes. Right from decoration to technical purposes, the provided balls are demanded for various applications. These balls are ideal to be used in flower vase for arranging the flowers. The offered balls are also used for different craft works. Available in vivid sizes and finishes, these balls are designed from the finest quality basic materials under experts guidance. Some unique attributes of these balls include smooth finish and lustrous nature. Furthermore, the offered Glass Balls are also used for designing of artificial jewelry.
Glass Balls are dimensionally stable, resist corrosion and chemical absorption and can withstand high temperatures (up to 600O F). Density varies depending on the type of glass used to manufacture the ball. We provide high precision balls from the following types of glass

SODA-LIME GLASS- (CRYSTAL GLASS)

Material resistant to high alkaline solutions. Soda-lime glass balls are mainly used for applications not subjected to strong mechanical or thermal shocks, such as plastic bearings, flow meters, measurement and control equipment, instruments and ink cartridges.

BOROSILICATE GLASS

Due to its excellent chemical inertia to most acids, this kind of glass is particularly suitable for metering pumps and valves against strong oxidising concentrations.

BLACK GLASS

A kind of glass often used for medical and chemical flow meters and for general measurement and control instruments.

Technical specification

Material

Sio2

Na2o

Cao

Al2o3

A2o3

Mgo

Soda line glass

67

16

7

5

3

2

Brosilicate glass

81

4




2

13




Black Glass

69.7

15.2

3.4




1.3




Properties

Soda line glass

Brosilicate glass

Black Glass

Specific Wight

2.50

2.23

2.55

Hardness(KNOOP-KHN)

465

418

405

Melting pint C

659

820

650

Max temparature use (mechanical )

Normal C

110

230

110

exteremeC

460

490

380

Resistance to thermal stress

17C

53C

18C